For those living in the planet's northern hemisphere, the winter solstice is a time of celebration, for it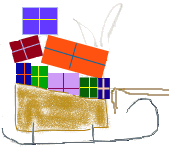 signals the return of the light. From mid-summer on, the days shorten, the nights lengthen, and increasingly darkness reigns. Now, in the twelfth month, that process reverses. The sun strengthens, and the light returns. Virtually all spiritual traditions recognize the symbolism residing in this astronomical phenomenon, and celebrate it. Here, at The Zoo Fence, every December, we join in that joy by sharing a few of the happy messages we have received over the past year.
The Zoo Fence is by far my favorite web site.
I am awed every time I settle down for a little reading.
Email

Thanks for being in my reality.
Email

I often check in to see what's new, and I am always pleasantly surprised!
Email

I appreciate your site tremendously.
Email

This site is the greatest!
Email

May your incredible Light continue to shine and bless us all.
California

Just surfed onto your wonderful site. I am so pleased that I did!
I found it to be very interesting, and I have thoroughly enjoyed my visit!!!
Thank you sooo much.
Germany

I found your site a couple of days ago, and have been reading The Simple Way.
It's just what I've been searching for.
United Kingdom

I love surfing your website. Thank you so much.
Maryland

Thank you for providing this website for all Seekers of Truth.
Texas

I am a blind user. Your site is very "Voice friendly". It reads like a dream.
Connecticut

I like your site!
Arizona

Nice site!
Michigan

Great site!
India

The text versions of the Brother Theophyle jokes are useful.
Thank you so much.
Greece

Magnificent.
Consider This! is just great. Thanks!!!!
The Netherlands

I am handicapped, but I really enjoy reading good books.
Thanks for the good reading here.
Georgia

I love it.
Alaska

I very much enjoy your Definitions page, and often refer to it
for an in-depth and original meaning of spiritual terms.
Email

I think The Simple Way is an absolutely wonderful, simple, and effective spiritual practice.
Florida

Friends of mine who are visually impaired really appreciate
the text version of the art gallery.
Email

You are a dear. Thank you so much.
British Columbia


Finding you on the internet was a true act of God.
It is like the drink of sweet pure water after a long drought.
Thank you for this.
Missouri

Besides the versatile spiritual perspectives which are all very appealing to me, there is an underlying kindness and respect for others that is consistently in evidence all over the website. And the combination of versatility and spacious generosity and respect is something that is very amazing to me.
Email

I have thoroughly enjoyed the content of your valuable site,
which I have read and will keep reading!
Australia

I am breathless with joy!
South Carolina

Thank you.

Email

I have been surfing the internet for years.
And suddenly here I am at The Zoo Fence. What a pleasure.
New Hampshire

What a difference your site has made!
Email

Your site has brought me to tears of joy!
Guest Book