For those living in the planet's northern hemisphere, the winter solstice is a time of celebration, for it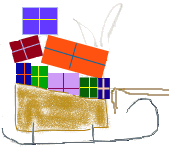 signals the return of the light. From mid-summer on, the days shorten, the nights lengthen, and increasingly darkness reigns. Now, in the twelfth month, that process reverses. The sun strengthens, and the light returns. Virtually all spiritual traditions recognize the symbolism residing in this astronomical phenomenon, and celebrate it. Here, at The Zoo Fence, through December and into January, we join in that joy by sharing a few of the happy messages we have received over the past twelve months.
Your web site is great. Thank you!!
United Kingdom

It is a beautiful site.
Email

I love the laughing cat!
Email

I do not remember when I first began surfing your site, but it seems like it was years ago. One thing is for sure: The more I read about your philosophy and your way of life, the more I feel at home. At last!!
Quebec, Canada

Congratulations on having a very useful and relevant web site.
Email

Your site is a real treasure.
Email

I just discovered your website, and have immensely enjoyed what I have read.
Email

This site is a such a wonderful resource for everyone to explore.
Email

I really enjoy your views of A Course in Miracles.
Japan

Thank you for sharing your wisdom and love.
Guest Book

The more I look through your website, the more amazing I find it to be.
Taiwan

What wonderful sayings and prayers on your web site!
Maine

I love The Simple Way. It's so clear and concise. And your Definitions of God and Satan are the first that capture the essence of my experience.
Email

I enjoy reading many articles at your site.
Email

I applaud your choice of the expression "spiritual tradition". Bravo!
Guest Book

It's a great site!
Armenia

Your website is a treasure chest!
Email

I just finished reading In the Beginning, and I enjoyed it greatly.
Email

Thank you for the article Ego Te Absolvo. It really speaks to me!
Illinois

Thanks for the excellent website.
Email

I am so glad to have come across your site during a web search.
Guest Book

Your explanations are extremely clear and helpful. What you call your Definitions page is one of my favorite bookmarks.
Guest Book

I have made your site my home page.
Email

The Quiet Room is my new home page, so I start every day with a prayer at The Zoo Fence.
Guest Book

Sweet website.
Oregon

You sound quite amazing to me.
North Carolina

Great site. Thank you.

Guest Book

Thanks.
France

I'm just so tickled to have found you. Thanks for shining a radiant light.
Missouri

Great site. Loads of interesting articles.
Australia

I wandered in to your delightful site, and an easy calm be-took me.
Vermont

The site has provided me with enjoyable hours of reading and reflection. Thank you for your contribution to my spiritual growth.
Michigan

A place that filled my longing soul with joy and hope!
Norway

Your site not only provides answers to my questions but it also provokes me to think much deeper than I've ever done before.
Louisiana

I am so happy to find you. I am looking forward to making use of this website. Thank you for having this wonderful resource.
Ohio

I've read your book Take Off Your Shoes here, and I often reread it over and over because of it's enlightening writing.
Connecticut

Thank you, thank you, thank you.
Texas