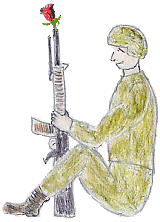 For those living in the planet's northern hemisphere, the winter solstice is a time of celebration, for it signals the return of the light. From mid-summer on, the days shorten, the nights lengthen, and increasingly darkness reigns. Now, in the twelfth month, that process begins to reverse. The sun strengthens, and the light returns. Virtually all spiritual traditions recognize the symbolism residing in this astronomical phenomenon, and celebrate it. Here, at The Zoo Fence, every December we express our gratitude and joy by sharing a few of the happy messages we have received over the past year.
Considering the world's continuing unhappy situations, in Iraq, in Afghanistan, in Pakistan, in Burma, in Sudan, at the polar ice packs, and in so many other places, we invited a couple of friends to join us for this year's December Card at The Zoo Fence.

Blessings to you for putting this site together. I am delighted beyond words. I have sent the URL to many of my friends!
Email

All the best is here.
Email

The Theophyle cartoons are witty and clever.
Email

I come here for peaceful thoughts.
Guest Book

I have been visiting your site for a few years looking for comfort during difficult times.
Email

I got such a kick out of the Brother Theophyle treadmill cartoon after my morning workout at the gym! Thanks for the laugh.
Tennessee

"Why did the human cross the road" cartoon is brilliant!
Email

I appreciate your sharing your experience and expertise.
Texas

I have gained much knowledge from visiting The Zoo Fence.
Email

You closed your message to me "please accept our best wishes for success and joy in all your work, inner and outer". That just blew my mind. Thank you, thank you.
Email

You always know what to say!
Canada

I have been visiting The Zoo Fence for many months and enjoy the inclusivity provided here for all faiths.
Guest Book

Thank you! The Zoo Fence is a phenomenal website. I'm so thrilled to have found it. When I read from this site, I feel straight from my heart that I'm reading Truth.
Kansas

I have found my guru here.
Email

What a delight!
Florida

Including so much fine art is a wonderfully refreshing idea.
New Hampshire

I love the art!
Email

I love the way you write about spiritual topics.
Australia

I was moved greatly by your writing.
Email

É luogo piacevole, devo dire! Buona fortuna a voi.
(Ed. trans: An agreeable website, I must say! Good luck to you.)
Italy

I am intrigued by your website.
Guest Book

Nice site!
Romania

I applaud the cartoon of Theophyle on the war.
It is my desktop.
Nebraska

The Quiet Room is the home page on my laptop. Merci.
France

The Zoo Fence is my home page.
South Africa

I am quite impressed by your web site.
I think it is one of the best web sites on spiritual and inspirational themes I have seen.
Book Publisher
North Carolina