For those living in the planet's northern hemisphere, the winter solstice is a time of celebration, for it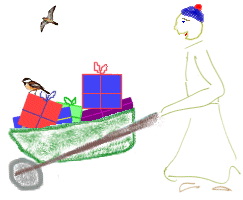 signals the return of the light. From mid-summer on, the days shorten, the nights lengthen, and increasingly darkness reigns. Now, in the twelfth month, that process reverses. The sun strengthens, and the light returns. Virtually all spiritual traditions recognize the symbolism residing in this astronomical phenomenon, and celebrate it. Here, at The Zoo Fence, through December and into January, we join in that joy by sharing a few of the happy messages we have received over the past twelve months.

You guys are absolutely, unbelievably, a refreshing oasis that serves as a marvelous reminder of WHO I AM. Thank you very much.
New Orleans, Louisiana

Very simply, thank you. Your site has solidified thoughts and concepts I've had for many years, and opened new lines of thought that I had never conceived.
Arizona

I am delighted.
Australia

Thank you for your contribution to my journey.
Erie, Pennsylvania

Your site is awesome!!
Alabama

Very nicely done up
Guest Register

This site is going to become my Home Page
Connecticut

Congratulations on a most impressive website.
Zanesville, Ohio

I was out for a walk with my mouse, and came across your site.
What a delight!
England

You are such a blessing in this world!
Thank you for all the beauty you add to so many lives.
Guest Register

I am always so grateful after I've been here.
Hawaii

Whenever I am at a loss, confused, or just down, I can be assured of being lifted up when I visit this site. I particularly like that all religions come together here. Thank you.
Ontario, Canada

I learned of your site from my sister, who emailed me a really neat article from Anna's Page. I am glad she did. Your site is so great!
California

This is simply the most wonderful website I have ever visited. The content, the presentation, the design, the graphics, are beautiful. Thank you for all the time, love and energy which went into making it so.
Australia

I am enthralled by your site.
New York

Awesome site.
Colorado

Thank you for this wonderful work.
New Jersey

I love your sight. I visit every day.
Ontario, Canada

Thank you for a great site.
Auckland, New Zealand

Since I've found The Zoo Fence, I've had endless reading, and inspiration beyond words for days and days.
Ohio

There is so much on this site. It is almost inexhaustible.
Michigan

Your website is my refuge and my comfort.
New York

I love your site.
Email

You bring a depth of understanding and clarity of language that is beautiful and inspiring. I'm very glad you're out there doing what you do.

Email

Your site is exquisite. It is an experience like no other!
Thank you for making it so accessible, and easy to cruise into and around!

Email

You have a wonderful site.
Vermont

The Zoo Fence is chock full of good stuff. Thanks for all the gifts you have given me on my spiritual path.
Massachusetts

I visited The Zoo Fence, and found it quite interesting, well designed, and easy to browse.

Email

Your site helps many folks enjoy their lives, and does make a big difference in our world.
Email

Thank you for being such a gift.
California

The Zoo Fence is a bit like having found a diamond mine, a house of treasures. Such commonsense, humble, plainly spoken truth (with the ring of living experience). I am so
pleased.

Australia

Nice site!
Canada

We find your web site truly inspiring

Israel

Your pages helped me on my journey.
Email

This place is the best.
Mexico